DROP DEAD SEXY
is the Cover Band of the Month
by Priscila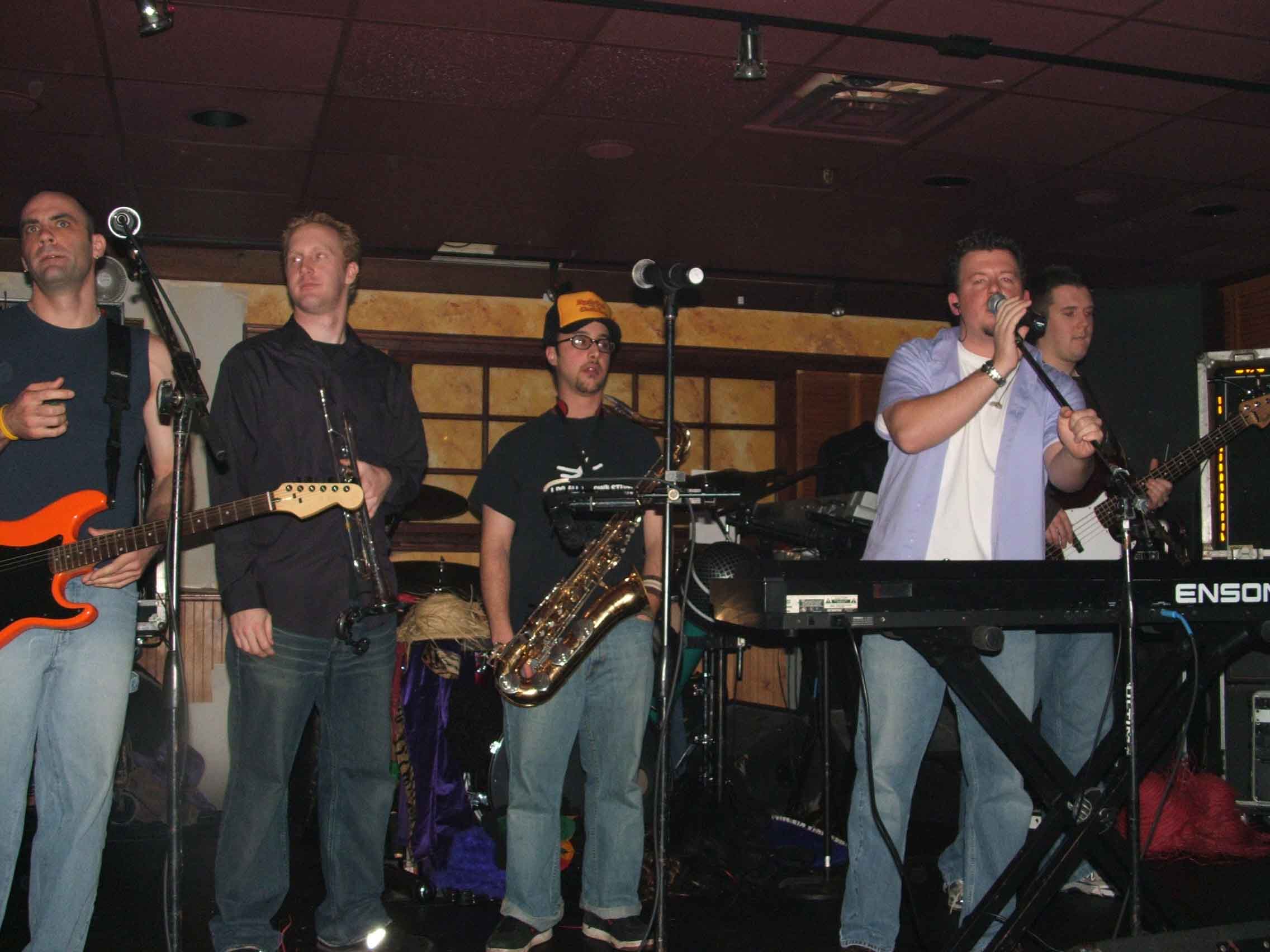 Drop Dead Sexy makes hanging out so FUN! 8 men, Props and sense of humor makes Drop Dead Sexy (DDS) a cover band in a class of it's own. Ducky, one of the founders of the band was asked if they play any modern rock songs. Ducky states the band prefers not to which makes them original. It is true DDS is a niche and there's no act like them in our area.
DDS works because of its members. All members master their own instruments (Yes, that includes their props!). The band can perform, but that's half of the cover band in our area. Drop Dead Sexy is different because the members goof-off and make asses of themselves on stage all night long. They have great choreography and perform to humor their religious patrons.
The band performs "Sweet Home Alabama" with plaques and makes the audience sings all the song with a big fake plastic microphone which they point to the audience. Get this, that same microphone becomes a punching bag for "Eye of the Tiger" ( Starbucks commercial song: Roy, Roy, Roy, Roy). Along with the microphone and placards, they have cowbells, sombreros, biker hats and my personal favorite, purple "pimp" daddy hats. The props make DDS performance fantastic because it's refreshingly new.
Humor is something this band is abundant. The band's attitude is all about making the audience laugh. Everyone in the band has a sense of humor and it's apparent to how they react to each other on stage. Everyone in the band makes fun of the other and vice versa. As a result, the band has impeccable stage presence and synergy they look like they're having fun and it gets the audience to loosen up (Isn't that why we all go out?).
An audience/fan was asked why they like watching DDS, "it's because they're different and other people that watches them are fun too." Precisely! It's like a chain reaction - because having fun is contagious, sugar does go a long way (that's alcohol to a lot of people!).
In addition to being funny, DDS has some cool medleys. They have a 90's medley where they sing favorites songs like, Jesse's Girl, Pour Some Sugar On Me, and Lucy In The Sky With The Diamonds, Hey Jude, etc. However, the band doesn't perform a lot of modern songs. Because, they choose not to... It would be nice if the band could sing some songs we listen to on our radio and it wouldn't hurt to fast-forward to a couple of years. So, if audiences are not into 90's and 80's they might not like this band. Hey, it shouldn't stop them for trying something new because this band is very interesting. Therefore, we are making exceptions because this band is cool.
DDS performs well, great stage presence and great synergy. A little rusty on the song selection however, it makes them unique. DDS is only one of its kind, special and there is no other act like them in our area. Phillybandaids is nominating our own favorite, Drop Dead Funny (I meant Sexy) for Coverband of the year.